Posted on: February 22, 2010

Caty
Run Time: 34:54
Actions: Double Penetration, Anal Sex, Cumshot Swallowing - Multiple, Ass to Mouth

Today we are graced with Czech starlet Caty Campbel who is lounging by the pool sticking her ass out. Nice directing touch with the camera man starting across the pool and slowly moving in towards the ass. It is not very often that you have the pleasure of meeting a girls asshole spread with both bands before you see her face! But, when we do see her, she is tall, blond, and gorgeous, with tattoos on her right shoulder and across her stomach, and she asks us if we want some more. Of course we do, and she strips further. There are some great shots of Caty bending over and a great peeling off of her g-string which she kicks away.

She walks around the pool and finds one stud. She asks him if he wants to fuck her. Of course, he does. Then she commands him to lick her ass and she writhes in glee. Caty walks down to the next stud. She asks him if he wants to fuck her. He responds saying that he wants to fuck her ass, dp style. But, to do so first, he needs to lick her ass. After which the fucking begins, straight to Caty's ass. She then leads both studs to a bench where she bends over to suck them off. One of the studs sees Caty's ass empty, and fills it with his cock. And Caty looks fantastic bent over with a cock in her ass and a cock in her mouth.

The butt fucking continues in reverse cowgirl, as Caty bounces and grinds enthusiastically then into cowgirl where the other stud comes in from behind to slip in as she shows off her fucked anus. Caty is then treated to a couple of dps with some vigorous fingering. Then the fucking concludes in one of my favorite positions (terribly underused), the flat on her belly anal, with both guys taking turns with ravaging Caty, and finally she is gaping! Caty then tells us that she is ready to swallow some sperm, and she does just that with both loads. One stud finishes Caty off fingering her vagina and then the scene finishes with Caty showing off her ass and taking a dip in the pool.

I loved this scene, and it is my favorite Asstraffic scene since the Cherry Jul scene in March. Caty comes across like she had a fantastic time shooting this. She tells us repeatedly how much she likes getting fucked, and at the close of the scene says that her ass feels much better now! Also, I really enjoyed that the scene focused on the starlet, and not the guys acting silly. And, even though this had all of our favorite raincoater material, it does not come across degrading, and Caty is treated like a star. Again, fantastic scene. Hope to see more like this soon!

Rating 5/5

Download this movie at Asstraffic.com


Posted on: January 17, 2010

Avril
Run Time: 23:54
Actions: Toys - Anal, Anal Sex, Cumshot Swallowing - Multiple, Ass to Mouth, Gapes, Deep Throating

SUMMARY: I liked the first half of thise scene much better than the latter half. Somehow the sex itself didn't follow through on the promise of all that anticipation. The buttplug work was great, and the sex was fine, but this one didn't seem to have the full package. Still, somehow I prefer these older scenes. I'm not exactly sure why that is except to say that the director and the girls seem to have less to prove, and I prefer that ambiance to today's constant drive to push the envelope.

DETAILS: Avril is a hot blonde with a large butt. All the better to get used and abused in an AssTraffic video, right? Not only does Avril have a nice posterior, she also has large areoles, which I'm sure some will love. The scene starts off with some shots of her tiny white thong, under which resides an ass that will be thoroughly fucked. The director feeds it a butt-plug first, which looks really nice. She walks around with it inside her, showing it off, and then alternating it between her ass, her vagina and her mouth for good measure.

Two males show up and there's a nice bout of cock-sucking, including some cool drool action when she takes it deep in her mouth while her head lays backward over a chair. The ass-fucking proper then commences. Each guy takes turns with her in a couple positions, and they keep both ends busy until they finish off by giving her a pile-driver. No double-penetration this time. The sperm of course, ends up down in Avril's tummy.

MLyons

Download this movie at Asstraffic.com


Posted on: December 24, 2009

Cristina & Dona
Run Time: 40:23
Actions: Double Penetration, Anal Sex, Cumshot Swallowing - Multiple, Ass to Mouth, Gapes, Deep Throating

This is a good video. These two beautiful girls sure do get fucked. Four males for these babes so they get no rest. Good bits of the video are:

10:15 when one of the girls first gets a dick in her ass, and shortly after the other girl gets one too. We get to see some pretty sweet gapes and also some ass to mouth. Then after the short little ass fuck they get some serious dick sucking done.

23:31 One of the girls gets a DP and a cock in her mouth. We get a very nice view of her with 2 schlongs inside of her and we also get a pretty nice gape too.

38:06 This is when the spunk starts flying. The first guy misses the girls mouth at one point and the other gets a facial from it. But the other 3 get in both girls mouth so they get 2 loads each. They swallow it down and the vid is over.

7/10

Download this movie at Asstraffic.com


Posted on: December 19, 2009

Sandy Black
Run Time: 28:02
Actions: Anal Sex, Cumshot Swallowing - Single, Ass to Mouth, Gapes

SUMMARY: This was, as usual, a good scene. Sandy is a worthy participant, and is darn hot even with the lip-piercing. The anal is excellent, and Sandy takes some pretty unrelenting ass-fucking throughout the scene. Good stuff. I recommend it.

DETAILS: Sandy has a great body, complete with the pretty tattoo at the small of her back. Her face is on the above average side, and she's got a piercing through her lip, so I suppose there's some good and bad about her, depending on your point of view. Still, watching her with her orange platforms and matching thong is a welcome sight. Her tight legs, and perky tits are darn cute. The fact that she's about to take it up the ass doesn't hurt either.

They guy who shows up to do the honors has an interesting bandage on his stomach above his cock. I don't know what's up with that, but needless to say, it's a little... odd to see that in a scene where the naked body is so prevelently featured. Sort of crazy when you think about it, but I digress. After a bit of cocksucking, Sandy takes it straight to the a-hole in the doggy position, and she looks quite yummy thank you very much. I have to admit a particular weakness for the mock-choking that went on while Sandy took it the spoon position, but honestly, she looked good in all positions, and she takes it hard and fast like a pro. The usual A2M and anal positions abound, and the end comes with a load of cum deposited into Sandy's mouth.

MLyons

Download this movie at Asstraffic.com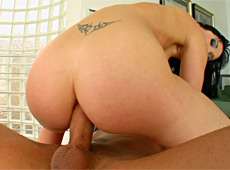 Posted on: December 14, 2009

Download this movie at Asstraffic.com

Sahara
Actions: Anal Sex, Cumshot Facial - Single
Run Time: 34:47

Sahara is something very special indeed.

Firstly she is at least half Indian which is a very rare ethnic group in porn. Apart from a small collection of frankly dreadful movies made in India with what looks like street hookers I can think of only one other Indian pornstar (Jazmin shes a beauty too and I think a full blood Indian) working in mainstream porn.

Even if she was unremarkable looking this would make her special but she is not; far from it. In fact she is about as beautiful an Indian as I can imagine.

Finally, she is a full on performer. She takes massive penises in the ass and throws herself into every scene. Her rarity value should make her a lot more famous than she seems to be. Her sex talk is a little unimaginative and frankly annoying. She is from the uk and she looks half Indian and half Causcasian to me rather than a full blood indian.

This scene is one of her best.


Posted on: November 16, 2009

Adrianna
Run Time: 28:03
Actions: Double Penetration, Anal Sex, Cumshot Facial - Multiple, Ass to Mouth, Deep Throating

This is one of the harder asstraffic videos, starring Adrianna with her perfectgonzo debut.
A sexy blonde with a mysterious look, mesmerizing grey-green eyes, and a tight, sexy body.

We see Adrianna in a simple but sexy outfit: Black tank top, yellow go-go boots and a black g-string.
Oh well, the g-string only lasts for 30 seconds anyway, since this episode pretty much skips the teasing part.
After a very short posing where she shows us her delicious tight ass, she takes off her tank top as well, to wear nothing but a black bra - which she will wear throughout the whole video.
(Although I would have liked to at least get a short view on her jugs, the combination bra+pantyless really IS visually appealing. Even more in combination with the gogo-boots).

After a short spreading and fingering, we skip right to the action, with Adrianna blowing off 2 guys. And just for the records: She is doing a really good gob at it.
She doesn't flinch at all, neither at the hard and looong deepthroats nor when one guy grabs her hair and spits into her mouth. She even performs a deepthroat face fuck while laying on her stomach and grabbing her heels with her hands - without the slightest hint of fear in her eyes. (Rather with a nasty grin that says something like "is that all you can do?")

After around 10 minutes, she's getting pounded in the ass (doggy) while blowing off the other guy - and yes, that seems to be the most normal thing in the world for this slut.
Shortly after, she gets double penetrated, with small breaks for some A2M.
Then some altering between reverse cowgirl anal and more d/p before eventually both males unload in right into her face - after that, she's not able to open her eyes again until the end.


I am not really into d/p and rough stuff like slapping girls into the face (although it's done not all-too rough here) and spitting into their face/mouth, and also I thoroughly miss (the completely skipped) teasing part.
And yet... I kinda like this scene. Adrianna simply is damn hot. Not only looking good, but even taking the hardest stuff like a champ, always with an expression of slutty nastiness.

Download this movie at Asstraffic.com


Posted on: October 09, 2009

Janet
Run Time: 34:56
Actions: Double Penetration, Anal Sex, Cumshot Swallowing - Multiple

This is one of my all time favorites, a women wearing stockings and heels while getting fucked will do it every time. Janet takes on David Perry and his side kick but she doen't know what she's getting into. The guys immediately go to work on Janet, reaming her ass and stuffing her mouth. By the middle of the movie Perry grabs Janet by the hair and pulls her to a nearby stool. They take turns giving Janet a good ass reaming and by the time Perry's side kick is drilling her, "poor" Janet barely has the energy to keep her head up as it drops below her knees. Then the guys turn her around and take turns making her squirt and sampling her "yella" liquid. They make her kneel to lick the stool clean and then Perry's side kick offers her his man meat to her to suck. He jams it deep in her throat and rubs his balls against her face. When he's done, Janet is gasping for air and her mascara has bled all around her eyes.
Next Perry takes her to the floor and reems her booty hole really hard. Janet is so spent that she can't keep her head up: Perry has to support her back with his hand. Then its time for DP action. Perry gets the booty hole and both guys ream Janet mercilessly. Perry gives her some A2M action and buries his dick so deep in her throat that Janet's face is pressed hard against his body and we can't see her face. The DP action continues fast and furious until Janet gets her 'reward' with two sperm dumps that she gratefully swallows. This is a 10 of 10 on my scale. :D:D

Download this movie at Asstraffic.com


Posted on: September 11, 2009

Lucy Lee
Run Time: 33:58
Actions: Double Penetration, Toys - Anal, Anal Sex, Cumshot Facial - Multiple, Ass to Mouth, Deep Throating

Lucy Lee is a prolific Czech starlet who has been in the industry for about five years. She has a gorgeous face, and long, slender body. She has been uninhibited in her career, doing plenty of dps, interracial, lez, and even a couple of double vagina and double anal. This being Asstraffic, we know her colon is going to be seeing some action.

Lucy is wearing a pair of neon yellow fishnet stockings, and a little top. Lucy takes off her top, walks over to a table and bends over, teasing us from the standing doggy position. The tease section really shows off her fantastic legs and ass.

After some more tease, Lucy gives herself a dp with a dildo and a striped butt plug. After a quick cut, magically, a couple of penises are in her face, with Lucy doing some fine deep throating.

After a short bit of vagina fucking in side-saddle, Lucy gets her backdoor stuffed with meat. Lucy then really bounces up and down on the cock in reverse cowgirl. We can see what an anal enthusiast she is as she grinds her hips. We also get some dp and some alternating in her ass in this position. After some more dp in doggy, Lucy takes one of the more messy facials on this site and waves goodbye.

I've seen a few Lucy Lee scenes, and have found her to be somewhat mechanical and not so into her scenes. That does not appear to be the case here, as she smiles a lot and appears into the action. There is a great moment when she is getting dp'ed in doggy when she is furiously making out with the guy on bottom then turns her head for some ass to mouth and makes out with the other guy. However, I think the direction in this scene was a bit weak. I would have liked to have seen more positions, especially doggy, and a little bit more passion in the scene. Also, it would have been nice for Lucy to have shown us her ass one last time before she left.

Rating: 3/5

Download this movie at Asstraffic.com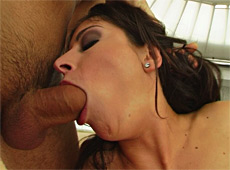 Posted on: September 04, 2009

Download this movie at Asstraffic.com

Clara
Actions: Big Tits, Anal Sex, Cumshot Swallowing - Single, Fisting, Squirting, Ass to Mouth
Run Time: 22:49

Clara caught my eye as a blonde stunner with an amazing rack. She has a lovely smile and a great body? but can she fuck? We certainly get off to a good start when Clara starts the tease with a dildo. Perhaps it's her lips or the way she sucked on it, but she shows this is going to be a winning video. She starts with an easy and polite playing with herself and ends with her entire fist in her vagina up to her wrist. Impressive for a model of this attractive. What is very enjoyable about this video is that not only is it an ass video, but it is also shot in from the POV angle, putting you in the driver's seat.

Clara puts a lot of effort into what she does. Through skillful cock sucking we see her skills. We get to see down her body to her lovely tits. Next, in a related scene, we see Clara flip over onto her back as we enter her mouth and throat. We get up close and personal with her greatest assets while she sucks from below. This is by far the best part of the video.

Once in missionary position we find Clara is a very vocal participant. Our actor seems to have some difficulty finding his rhythm, fumbling around until the next scene. We get treated to a lot of her gorgeous body during the sex scenes. She finally takes it in the ass after getting pounded doggy style. She really gets vocal once she gets fucked anally. Unfortunately, this only last for a few moments, surprisingly short for an Ass Traffic video. She takes his load in her mouth and swallows without even smudging her makeup or breaking a sweat. She continues to suck and tease after he blows, which is a nice change of pace.

Pros: Clara is a sexy and skillful actress.
Cons: More pounding, less fooling around.

My score: 4 out of 5

- Civ


Posted on: August 13, 2009

Download this movie at Asstraffic.com

Angelina Winter
Actions: Double Penetration, Anal Sex, Cumshot Facial - Multiple, Fisting, Ass to Mouth, Gapes
Run Time: 38:20

Wow, a female behind the camera. It is weird hearing a female voice asking the cunt in front of the lens question. We are blessed with 27-year-old Angelina Winter as the attraction. This blonde's body is made for fun. For the next dozens minutes she dances around and crawls on the floor, showing us her delectable body. At one point Angelina shoves her fucking fist up her poopchute, and gleefully sucks her fingers after their backdoor travels. She also uses both hands to pull her puckered opening wide so the camera and get a nice inside look at her asshole.

Final the dick-patrol shows up as a tandem of willing dicks are ready for action. On her hands and knees she starts sucking. With both hands full of manmeat Angelina constantly switches back and forth between her yummy treats. She does her best to weasel both of them as far down her throat as possible. There is some double-handed hair grabbing which adds spice to the action.

They put Angelina on her back on a chair, and commence a heavy dose of mouth-fucking. She sounds like Charlie Brown's teach squawking as the dicks jam in and out of her mouth. One of the guys take a seat on the chair as Angelina mounts his cock with her ass. Quickly her mouth finds the cock of the other guy as well. She sucks away as her ass bounces up and down on the other rigid tool. After fucking her mouth awhile the guy standing also fucks her ass for a short time before returning his dick to her mouth.

Angelina lies sideways across two barstools. Her shithole is pounded as her lips work the other brawny beast. The camera-lady loves the tag-team action the two are putting on Angelina. Angelina even endures some choking during anal assault. The guys switch positions. Her gaping asshole is proudly displayed to the camera. It is as wide as the tunnel that spans between Great Brittan and France.

Angelina sits on the stool as her butt is banged doggy-style. The moaning bitch is also given a cock on the other end to suck. Her blonde locks are tightly held as she gulps down hard on the dick. The guys trade off shots at her spacious shithole.

On the floor Angelina mounts one of the trusty steeds with her pussy. The other cock slides into her begging asshole. The gorgeous blonde is sandwiched magnificently between the two energetic studs. Angelina's moaning during the DP is ear-shattering. After a few minutes he removes his cock from her ass, and shoves his grimy shaft in her mouth. You can hear Angelina gagging a bit. The guys change position in the DP puzzle.

The two men lie side by side on the floor. Angelina sucks and strokes their dicks. She sits reverse cowgirl on one of them with her bunghole. From the right the other cock fills her mouth while the one from below wildly bounces her. After her mouth he sticks his cock in her vacant pussy. From the look on her face, this bitch aint no stranger to DP.

Angelina dismounts. She grabs both dicks and takes turn pleasing each with her mouth. The guy on the bottom clutches her head. He rams his dick up into her mouth with authority. The other guy decides her asshole has been empty to long, and slams his cock back into her doggy-style as she sucks on the other. Both men give her ass a good volley of pounding.

They lay Angelina on her side on the floor. From behind she is butt-fucked some more while her mouth is also given cock to dine on again. After a few minutes she sits up, and works on both dicks with her hungry lips. There is some hair pulling and face slapping during the ordeal.

The proud princess kneels on the floor waiting for her coronation. From the right the first knight shoots his load onto her cheek, forehead, and some into her hair. The last knight squeezes the gooey treasure from his lance onto Angelina's nose and left cheek. Her face is radiant below the sticky veil of jizz. Our flaxen-haired maiden did a noble job.


:: Next Page >>
Categories
Home
Anal
Big Boobs
Creampie
Facials
Fisting
MILF
POV
Sperm Swap
Teen
Recent Posts
Hardcore Ass, Caty Double Penetration, Anal Sex, Cumshot Swallowing Multiple, Ass to Mouth
Anal Sluts, Avril Toys Anal, Anal Sex, Cumshot Swallowing Multiple, Ass to Mouth, Gapes, Deep Throating
Hardcore Ass, Cristina & Dona Double Penetration, Anal Sex, Cumshot Swallowing Multiple, Ass to Mouth, Gapes, Deep Throating
Hardcore Anal Sluts, Sandy Black Anal Sex, Cumshot Swallowing Single, Ass to Mouth, Gapes
Hardcore Anal, Sahara Anal Sex, Cumshot Facial Single
Hardcore Sluts, Adrianna Double Penetration, Anal Sex, Cumshot Facial Multiple, Ass to Mouth, Deep Throating
Hardcore Sluts, Janet Double Penetration, Anal Sex, Cumshot Swallowing Multiple
Hardcore Anal Sluts, Lucy Lee Double Penetration, Toys Anal, Anal Sex, Cumshot Facial Multiple, Ass to Mouth, Deep Throating
Hardcore Anal Sluts, Clara Big Tits, Anal Sex, Cumshot Swallowing Single, Fisting, Squirting, Ass to Mouth
Anal Sluts, Angelina Winter Double Penetration, Anal Sex, Cumshot Facial Multiple, Fisting, Ass to Mouth, Gapes
Slutty Porn
Friends